Andrew Moore  presented
Pawpaws. We joined Andrew Moore as he spoke of the
past, present, and future of this unique fruit, which
is described as a cross between a mango and a
banana. We enjoyed a presentation about
pawpaw lore and knowledge, not only from the
plant breeders and horticulturists working to bring
the fruit into the mainstream, but also regular folks
Andrew met through his travels and research. In
addition, Andrew dug a little deeper, looking into
American foodways and how economic, biologic,
and cultural forces combine, leading us to eat what
we eat, and sometimes to ignore the incredible,
delicious food growing all around us.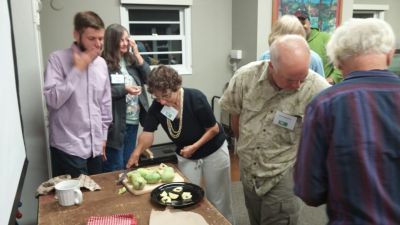 Since September is pawpaw season, Andrew
brought some fresh fruit for tasting!  He also had copies of his award winning book for sale.